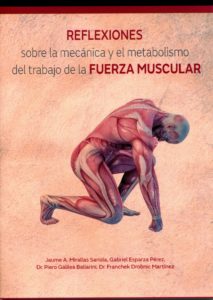 Reflexiones sobre la mecánica y el metabolismo del trabajo de la fuerza muscular
Thoughts about mechanics and muscle strength metabolism work
Reflexiones sobre la mecánica y el metabolismo del trabajo de la fuerza muscular
Mirallas Sariola JA, Esparza Pérez G, Galilea Ballarini P & Drobnic Martínez F (2017). Ed. Ergon, Barcelona. ISBN: 978-84-17844-01-1
Resumen
En el ámbito del deporte, la capacidad de producir tensión de los grupos musculares se define como fuerza muscular. La fuerza muscular es la causa del movimiento del cuerpo humano, que nos permite realizar cualquier ejercicio. De los principios de la mecánica y de la fisiología, y de sus aplicaciones al movimiento del cuerpo humano, en concreto a las acciones deportivas, era necesario hacer un proceso de análisis y reflexión del trabajo de la fuerza muscular. En el entrenamiento deportivo, el deportista genera energía mecánica y metabólica. Y al mismo tiempo produce fuerza muscular, que se transforma en trabajo mecánico y metabólico. La valoración y control de este trabajo mecánico y metabólico es fundamental para dosificar racionalmente la intensidad y el volumen de la carga de las sesiones de entrenamiento y optimizar el rendimiento del deportista. El trabajo mecánico y metabólico son dos variables resultantes de la producción de energía mecánica y metabólica con una relación de proporcionalidad directa. El trabajo mecánico es el producto de una fuerza por el desplazamiento o por la velocidad. Y la valoración del trabajo metabólico se mide a partir del trabajo mecánico, que representa un 24% de la eficiencia del trabajo metabólico, resultado obtenido de una forma indirecta del consumo de oxígeno (VO2) a partir de la carga realizada. Los profesionales del deporte podrán medir mejor el trabajo de la fuerza muscular: el trabajo mecánico es equivalente al 24% de la cantidad de trabajo metabólico.
Palabras clave: fuerza muscular, trabajo mecánico, trabajo metabólico
Abstract
In the field of sport, the capacity to produce muscle tension is defined as muscle strength. Muscle strength is the responsible for the movement of the human body, which allows us to perform exercise. From the principles of mechanics and physiology, and their applications to human movement, specifically to sporting actions, it was necessary a process of analysis and reflection of the work of muscular strength. In sports training, athletes generate mechanical and metabolic energy. At the same time produce muscle strength, which is transformed into mechanical and metabolic work. The evaluation and control of this amount of mechanical and metabolic work is essential to rationally adjust the intensity and volume of the training sessions load and to optimize athletic performance. Mechanical and metabolic work are two resultant variables from mechanical and metabolic energy production a relation of direct proportionality. Mechanical work is the product of a force multiplied by a displacement or a velocity. Metabolic work is measured from mechanical work, which represents 24% of metabolic work efficiency, indirectly obtained from oxygen consumption (VO2) as a result of the supported load. Sports professionals can better measure the work of muscle strength: mechanical work is equivalent to 24% of the amount of metabolic work.
Keywords: muscle strength, mechanical work, metabolic work